Home | Tour | Pricing | FAQ | Download | Links
From this screen you can print letters to any queried group of leads without affecting their follow-up status. Handy for holiday greetings, special sales or announcements, and notifying out-of-town leads of your coming visit, among other things.
Just compose or choose your letter, query the group you want, then click the button to bring up all the letters, envelopes, and/or labels already mailmerged and ready to print.

After everything is printed, Autoposting (one click) will make a history notation to each name that this special letter was sent, without affecting their place in the follow-up process.
You can also export data from here for use in other mailmerge programs.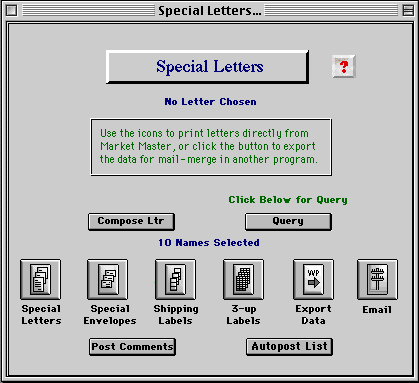 Home | Tour | Pricing | FAQ | Download | Links