Home | Tour | Pricing | FAQ | Download | Links
Here's where you create your strategy steps for automatic follow-up activity. Strategy steps can be either active or dormant. Active steps can be a letter or call. If you click letter, you get to choose envelope, label or shipping label to mail it. Once you've named and described the step, decide how many days you want to pass before performing the next step automatically. Name that step, then create it in the same way using its own form.
If you've called for a step in the automatic or optional routing, you must also create it. Market Master lists all uncompleted steps on the pop-up menu in the Step Title area, so you know which ones still need to be done.

Optional branching lets you route people to a different strategy step if they respond favorably, unfavorably, etc., so you can tailor your follow up activities appropriately.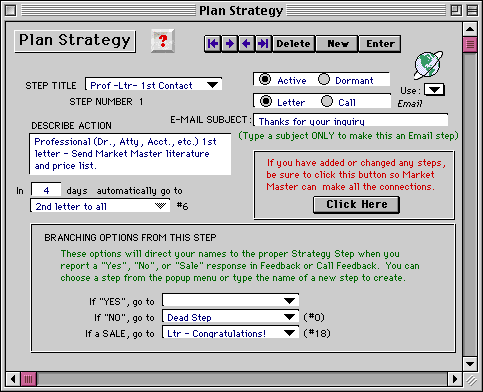 Home | Tour | Pricing | FAQ | Download | Links