Home | Tour | Pricing | FAQ | Download | Links
Enter all new leads here. Market Master automatically checks for possible duplicates and lets you know if an existing name is close.
Market Master automatically assigns the lead to the proper strategy step based on the contents of the Start Code field. This table field (and the one beneath it which we call "Value Code") allow you to set up a table of standard entries which will appear on a pop-up menu, to assure consistent data entry. The Value Code can assign a dollar value to the lead.
Market Master lets you rename these and other optional fields any way you want. Optional fields include two each formatted for text, numbers, date, and currency. There is also a keyword field for selecting on other criteria if needed, and a profile for extensive background notes. In Market Master Manager, leads can be automatically assigned to the proper sales rep based on territories.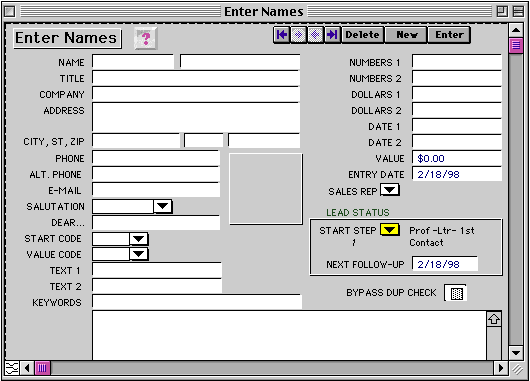 Home | Tour | Pricing | FAQ | Download | Links